In our kickboxing program for ages 9-13 and above you will learn essential skills to become healthier, fitter, and stronger. Our approach applies teaching techniques to enhance a greater sense of self-confidence and self-esteem, and to develop more focus, self-discipline, and self-control.
You will learn self-defense and experience the stress release that results from kickboxing training. With the guidance of our team of highly qualified Martial Arts instructors we can ensure that you will deepen your knowledge of the best kickboxing techniques and reach your optimal state of physical health.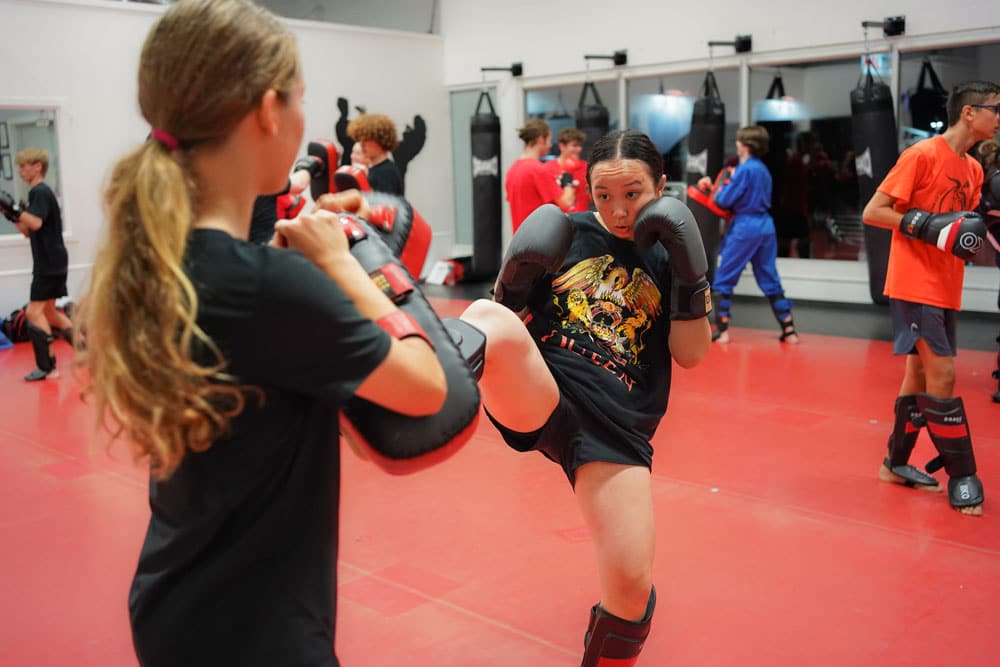 Some of the benefits of practicing kickboxing include:
Learn self defence and combat skills
Optimize defensive and offensive fighting techniques
Increased muscular endurance, strength, speed and flexibility
Great for cardiovascular health
Enhanced memory and focus
Beneficial for sound mental health and stress relief
Improved self confidence in physical ability and appearance
BELOW ARE SOME QUESTIONS YOU MAY WANT TO ASK YOURSELF:
What is your primary reason for exploring the idea of martial arts?
To gain greater confidence and self-esteem?
To develop more focus, self-discipline and self-control?
To lose weight and gain muscle?
To become stronger, fitter and healthier?
To learn and understand self defense?
To release stress?
To make new friends in a welcoming, non-competitive environment?
To try something new?
If you said YES to the questions above, then we may well be the school you are looking for!